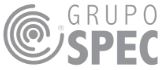 Privacy Policy
DATA PROTECTION
Who is the controller of your data?
SPEC, S.A. (hereinafter "SPEC")
Registered office: Calle Caballero, 81-83, 08014 (Barcelona)
E-mail: protecciondatos@grupospec.com
Telephone No.: : 932478800
Company tax number (N.I.F.): : A-08537300
¿Con qué finalidad tratamos sus datos personales?
Tratamos la información que nos facilitan las personas interesadas con el fin de gestionar la/s incidencia/s enviada/s a través de la aplicación de soporte de SPEC.
Why do we process your personal data?
We process the information provided to us by interested parties in order to manage the incidents sent via the SPEC support application.
How long will we keep your data for?
The personal data provided via the contact form will be kept for a maximum of five (5) years from the date of the last issued invoice.
What is the legitimation for processing your data?
The legal basis for the processing of your data is your support request and the management of incidents concerning the service contracted with SPEC.
What are your rights when you provide us with your data?
Any person is entitled to obtain confirmation concerning whether at SPEC we are processing data related to them or not.
Interested parties have the right to access to their personal data and to request the rectification of inaccurate data or, when applicable, their deletion when, among other reasons, the data are no longer required for the purposes for which they were collected.
In certain circumstances, interested parties may request a limitation concerning the processing of their data concerning the processing of their data [link to the privacy policy of the website], in which case we shall only store the data required to make or defend ourselves against claims.
Also, in certain circumstances and for reasons related to their particular situation, interested parties may object to the processing of their data.
SPEC, S.A. shall cease to process the data, except for legitimate mandatory reasons, or in order to make or defend itself against possible claims.
SPEC, S.A. hereby informs you that you may exercise your rights of access, rectification, deletion, opposition and limitation of the processing in accordance with the conditions and limitations provided in current legislation, by writing to SPEC, S.A., Calle Caballero, 81-83, 08014 (Barcelona), or by sending an email to protecciondatos@grupospec.com. In all cases, you must provide a copy of your national identification document (DNI), passport or equivalent document. If you consider it necessary, you may submit a claim to the Spanish Data Protection Agency.